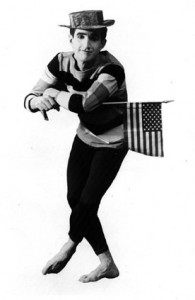 "Tony Montanaro, he was lyrical , comical, he could be tragic too,… he was his own director."
Marcel Marceau
Tony Montanaro (1927-2002) was one of the great mime artists of the 20th Century. Theatre & Inspiration celebrates his life and contributions to the world of theatre and the joy he brought to audiences across America and Europe. In the film, rare archival footage of Montanaro is interwoven with interviews and performances. Featured in these scenes are Montanaro's wife and performing partner, Karen Montanaro, and legendary mime Marcel Marceau.
In 1956 Montanaro traveled to Paris to study with Marceau and Marceau's teacher, Etienne Decroux. After performing and teaching around the world, Montanaro journeyed to another Paris–South Paris, Maine. There, in 1972, he established the Celebration Barn Theater, a mecca for performers who came from around the world to study with this man who was redefining mime and theater.
From Celebration Barn, generations of students guided by Montanaro's genius, have gone on to careers as: puppeteers with "Sesame St." and "The Muppet Show", writers for "Between the Lions", the host of "Hollywood Squares", and performers in Cirque du Soleil, are just a few of the Celebration alumni seen in the film.
In 2004, thirty eight performers, all past students, came together for a series of tribute concerts in a dynamic and fun filled homage to their teacher. Theatre & Inspiration shows this master's ability to reach beyond the footlights and into the hearts of the audience. This is the legacy of Tony Montanaro.
Featuring: Tony Montanaro, Karen Montanaro, Marcel Marceau, Benny & Denise Reehl, Tom Bergeron, Petey Ford, Jewel Walker, Nancy Smithner, Fred Garbo, Robert Post, Brian Meehl, Hilary Chaplin, Montanaro family members and many zany performers.
Music: Steve Grover Trio, Deborah Henson-Conant, Brad Terry & Joachim Mencel, Glenn Jenks
"I'm a mime. And as a mime I want to on a bare stage show that a man, who is a miracle to me, can be anything, can be anybody."
Tony Montanaro
Screenings
Maine International Film Festival
Atlantic Film Festival, Halifax
Southeast Theatre Conference, Atlanta