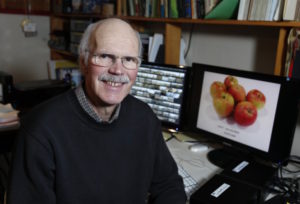 For forty years Huey has been making films on artists, education, the environment, and on Maine. His films have been shown at film festivals throughout the U.S.A., on PBS, and on television in Europe.
His latest film, "Henry David Thoreau: Surveyor of the Soul" will premiere on July 15th, 2017 at 3:30 PM at the Maine International Film Festival in Waterville, Maine.  This 114-minute film brings Thoreau to life, showing the human side, his vast achievements and humor.  This film tells the story of his life and his time at Walden Pond as well as the impact his writings have had on environmental issues, civil rights and individual thinking in our time.
Huey's prior feature-length documentaries are "In Good Time: The Piano Jazz of Marian McPartland" released in 2011 and "Wilderness and Spirit: A Mountain Called Katahdin" released in 2002.  In 2016 "Maine Heritage Orchard", a 15-minute documentary was released.
Huey is a founder of the Maine Student Film and Video Festival, which is now in its  fortieth year and was its director for thirty-one years. He has been an artist-in-residence in over 150 schools in New England and has given presentations at arts and education conferences throughout the United States. Currently he is an adjunct instructor in Communications and New Media at Southern Maine Community College.
He is a recipient of a Maine Artist Fellowship in film from the Maine Arts Commission and a member of both the Maine Teacher Artist Roster and the New Hampshire Artist Roster.
Huey is the recipient of the first "Huey" award from the Maine Film Commission. This award, named after Huey, is given to an individual who exhibits "exceptional contributions in film and education in Maine."  Three subsequent Huey awards have been given out. The "Huey Student Award" was established by an anonymous donor in June 2008 to annually recognize an outstanding high school senior in the Maine Student Film and Video Festival.